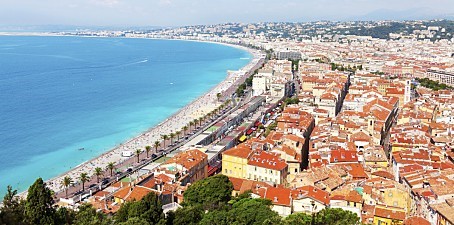 The Cote d'Azur – Not Resting on its Laurels
Despite being a long term favourite destination, the Cote d'Azur on France's south-east Mediterranean coastline is gearing up to re-enforce and diversify its tourism offer.
Christian Estrosi, until recently Maire of Nice and now the new President of the Provence Alpes Cote d'Azur Region (PACA) has recently announced a new strategy for tourism in the region, including extra funding for attracting major events. Of course events already play a significant part in the local economy, with the Cannes Film Festival and the Monaco Grand Prix two of most mediatised annual events around the world. However, both of these events taking place in May does not help the region much with one of its key problems, that of extending the traditional peak summer season.
Of course if you go back to the modern origins of the resorts with their grand hotels, the season was in winter and not in summer. The well-heeled families of northern Europe, with the British Monarchy in the vanguard came here to escape the cold and damp and to enjoy the sunny and mild winter climate and the special light that also make the Cote d'Azur such a favourite with artists from Monet to Gaugin and Matisse to Cocteau.
Roll on 100 years and after the introduction of three weeks paid holidays in France 1956 and the coming of the auto-route network plus the development of Nice Cote d'Azur airport, and the region now attracts some 30 million tourists year of which around 6 million are international arrivals. Last year Nice airport hit another record with over 11 million arrivals, making it the second busiest airport in France.
So what's the strategy? How do you keep a destination that is already a classic and is adopted and loved by each new generation of visitors at the top of its game? Get even better at what you do seems to be the answer…. improve welcome skills, especially languages; develop new facilities like Nice's new 35,000 seater stadium and extend infrastructure like the super efficient tramway (when they're not on strike!); restore the heritage built environment and protect the coast; and invest in marketing to grow segments like business tourism (congress and conference business), cruise tourism and major events.
Will they succeed? If the quality reflects the image that is evoked by names like St Tropez, Antibes and Juin-les-Pins, I wouldn't bet against it. There never seem to be too many empty seats on the 27 daily flights (yes per DAY) from London …….