Foodservice Consultants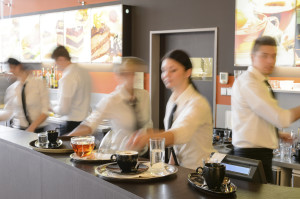 Do you need strategic support for your foodservice organisation? Our foodservice consultants offer a full suite of strategic support services for catering, hospitality and foodservice businesses.
We know the catering industry inside-out having spent many years as food business operators ourselves; our experience covers every angle, from start-ups to well-established operations; from 'quick service' and 'fast casual' through to 'fine dining'.
Our Foodservice Consultants
Our foodservice consultants can offer you a holistic view of the industry and guide you through the challenges and opportunity in this exciting global industry.
Salon works with start-ups, national chains, international franchisors, landlords and developers to achieve optimal performance in foodservice. Start the conversation with Peter Antenen, one of our lead foodservice consultants on any strategic issues impacting your catering programme.
The global Foodservice sector is alive and kicking, with strong growth demonstrated post-recession and positive projected growth rates moving forward. In the USA, in 2016, sales of $783bn across 1m outlets employing 14.4m workers, creating 1.7m new jobs by 2026.
UK Foodservice headline performance:
Worth £46.6bn in 2014, with growth expectations of 1.5% in 2016
Growth forecasts are 2.2% to £56.3bn by 2019
268,000 employees in the FSM (food service management) sector
800 new foodservice brands created in 2015
Average spend in restaurants £21.55 (hotel restaurants £26.60) (2014)
Street food, now worth £600m in the UK and growing at >20% per annum
Top five trends for UK foodservice in 2016:
Demand for authentic regional British tastes and flavours
Peer-rating platforms improving up customer service and response
New day parts: breakfasts and afternoon teas are big, plus late night
Street-food: supply & demand continues to grow; market consolidating
Dietary niches: UK demand for gluten-free is worth £100m+
Click here to learn more about the services which we offer
Contact us today to find our more about how we can help you.