In what was a complicated year for the industry, the overall out-turn has proven to be quite encouraging for the strength of the attraction of the Cote d'Azur as a premier tourism destination. Nonetheless the effects of the terrorist attack on the Promenade des Anglais in Nice on 14 July made themselves felt.
Overall the number of visitors dropped to just below 11 million, with hotel room occupancy ending the year just over two points down at 59%. However the shock of the July events resulted in some deep discounting to try to maintain occupancy and RevPar was more significantly effected as shown below. June was a bright spot in the year, with Nice acting as a host city for Euro 2016.
HOTEL REVPAR BY MONTH 2016 – % Change year-on-year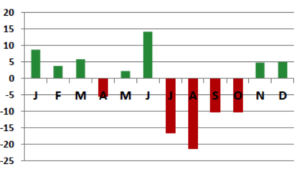 The 4 and 5-star market proved the most resilient losing just 1.5 points of occupancy with the 3-star segment down 4 points and 2-star down 3.5 points.
One interesting growth segment has been the number of visitors using peer-to-peer reservation systems (Airbnb, Arbritel, etc) which at 250,000 has doubled in the past year and now accounts for around 5% of the accommodation market.
Just over half of all stays on the Cote d'Azur are by international visitors and the top 5 markets in 2016 were
UK and Ireland 16%
Italy 12% (- 1pt)
USA 11% (+1pt)
Germany 8%
Scandinavia 7% (+0.5pt)
The year 2016 seems to have ended on a more positive note and new 2.3m Euros promotional campaign will be launched in March using the new identity we reported on previously. We shall be monitoring how strongly the market recovers in 2017 with interest. #Coted'AzurFrance